Gerda Pons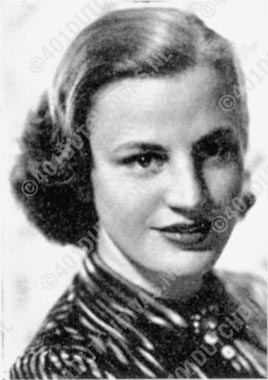 Gerda Pons
Gerda Pons followed her singing study - as many of her contemporaries - in the opera class of Johannes den Hertog. And just as Judith Toff and José Candel, Gerda Pons was a pupil of Rose Schönberg. She was a member of the already more often named chamber choir of Felix de Nobel. The ensemble sopranos of this choir exists of a.o. Hélène Ludolph, Greet Koeman and Dora Schrama.
Gerda Pons made her opera debut on 28 June 1941 at the Nederlandsche Operastichting as Cherubino in Mozart's Le nozze di Figaro. Count Almaviva was sung by Theo Baylé, the countess by Greet Koeman and Figaro by Otto Couperus. Conductor, Willem van Otterloo. She appeared further as Nella (Gianni Schicchi, Puccini), Nedda (Pagliacci, Leoncavallo), Siebel (Faust, Gounod), Isabella (Boccacio, Suppé), Musetta (Bohème, Puccini), Violetta (Traviata, Verdi), Gilda (Rigoletto, Verdi), Marie (Verkaufte Braut/ Prodana nevesta, Smetana) and Elisabeth of Valois (Don Carlos, Verdi).
Her final appearance was on March 31th 1946 as Gilda in Verdi's Rigoletto. It concerned one of the last performances after the Second World War of the Gemeentelijk Theaterbedrijf, afdeling Opera (Municipal Theater Company, department Opera) of Johannes den Hertog.
Gerda Pons emigrated to New Zealand in the late 1960s, to a small town called Hastings. Her husband has died and she remarried. She worked as a singing teacher.
One of her pupils wrote me about her: " ... an amazingly charismatic woman and I always wondered just what her background was in the Netherlands. I am somewhat surprised by the Gilda, because by the time I knew her the voice was much fuller than that role would have required. But she would have looked beautiful!! ... "
Gerda Pons died in the 1980s. One of her daughters returned to live in Holland.
source: a.o. Stephanie Hayman; G.S. de Bossan.