Kathleen Ferrier - lijst van haar repertoire
Hier, overgenomen uit haar aantekenboekje, is een lijst van wat Kathleen Ferrier zong:
* Op plaat opgenomen.
Vroeg Engels:
The Arch Denial-Arne
*Have you seen but a whyte lily grow-(Elizabethan) arr. Grew
*Willow, Willow - (Elizabethan) arr. Warlock
Come let's be merry-arr. Lane Wilson
Cradle Song-Byrd
Flocks are sporting-Carey
*I will lay me down in peace-Maurice Greene (1695-1755) - haar eerste plaatopname!
*O Praise the Lord-Maurice Greene - haar eerste plaatopname - de andere kant van de plaat
Nightingale-Carey
Tell me lovely shepherd-Boyce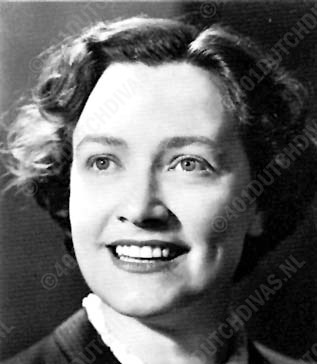 Bach:
Prepare Thyself Zion
Bist Du Bei Mir
Ach! dass nicht die letzte Stunde
Vergiss mein nicht
Schlage doch
Brahms:
Mainacht
Der Tod, das ist die kühle Nacht
Immer Leiser wird mein Schlummer
Sonntag
Sapphische Ode
Sonntag Morgen
Wir wandelten
Botschaft
Von ewiger Liebe
Minnelied
Liebestreu
*Vier Ernste Gesänge
*Alto Rhapsody
*Two songs with Viola
Dein blaues Auge
Auf dem See
Ruhe Süssliebchen
Heimkehr
Es schauen die Blumen
Beethoven:
Neue Liebe, neues Leben
Ich liebe dich
Tracht nicht
Chamber Orchestra - own parts:
Star Candles-Michael Head
Hark the ech'ing air-Purcell
Where'er you walk-Handel
Dearest Consort-Handel
Art thou troubled-Handel
Cradle Song-Byrd
Che faro senza Euridice-Gluck
Water Boy-arr. Robinson
My Boy Willie-arr. Sharp
I have a bonnet-arr. Hughes
Four poems of St. Theresa-Lennox Berkeley
Cornelius:
Brautliebe
Engelse liederen:
Spring-Ivor Gurney
Down by the Salley Gardens-Ivor Gurney
*Sleep-Peter Warlock
*Pretty Ring Time-Peter Warlock
Three Psalms-Rubbra
*Silent Noon-Vaughan Williams
Song of the Pilgrims-Vaughan Williams
Star Candles-Michael Head
Sweet chance-Michael Head
The Piper-Michael Head
Little Road to Bethlehem-Michael Head
October Valley-Michael Head
*Love is a Bable-Parry
*Go not happy day-Frank Bridge
*The Fairy Lough-Stanford
*A Soft Day-Stanford
Bold Unbiddable Child-Stanford
La Belle dame Sans Merci-Stanford
By a Bier side-Armstrong Gibbs
Sigh no more-Aikin
Rahoon-Moeran
Merry Greenwood-Moeran
To Daisies-Quilter
*Over the mountains-Quilter
*Now sleeps the crimson petal-Quilter
*Fair house of joy-Quilter
*Drink to me only-Quilter
*Ye banks and braes-Quilter
The White Peace-Bax
Lullaby-Cyril Scott
The Heart worships-Holst
Twilight Fancies-Delius
Close thine eyes-Mary Plumstead
Volksliedjes:
*My bonny Lad-Traditional
I will give my love an apple-Traditional
O men from the fields-arr. Hughes
*O Waly, Waly-arr. Britten
*Come you not from Newcastle ?-arr. Britten
*I know where I'm going-arr. Hughes, adapt. Gray
She walked thro' the fair-arr. Hughes
*I have a bonnet-arr. Hughes
The Spanish Lady-arr. Hughes
*Kitty my love will you marry me-arr. Hughes
*My Boy Willie-arr. Sharp
Swing. Low-arr. Robinson
Water Boy-arr. Robinson
*Fidgety Bairn-arr. Roberton
*Ca' the Yowes-arr. Jacobson
Shenandoah-arr. Jacobson
Ash Grove-arr. Britten
Oliver Cromwell-arr. Britten
O can ye sew cushions-arr. Roberton
*Down by the Salley Gardens-Gurney
*I will walk with my love-arr. Hughes
B for Barney-arr. Hughes
*The Lovers Curse-arr. Hughes
*Blow the wind southerly-arr. Whittaker
*Keel Row-arr. Whittaker
Bobby Shaftoe-arr. Whittaker
*Stuttering Lovers-arr. Hughes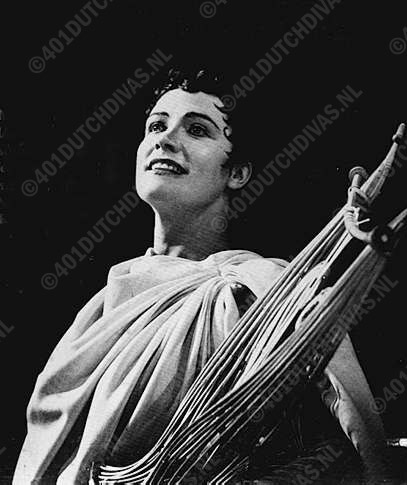 Kathleen Ferrier als Orfeo, Amsterdam 1951
Fauré:
Nell
Lydia
Au bord de l'eau
Après un rêve
Giordano:
Caro mio ben
Gluck:
*Orfeo
Handel:
*Art thou troubled
Pack Clouds Away
How changed the vision
Dearest Consort
Verdant Meadows
*Spring
*Come to me soothing sleep
Where'er you walk
Lascio chio pianga
Sweet Rose and Lily
*Ombra mai fu
Like as the love lorn turtle
Italiaanse liederen:
Pur dicesti-Lotti
Lasciatemi morire-Monteverdi
Che faro-Gluck
Mahler:
Wo die schönen Trompeten blasen
Ich ging mit Lust
*Ich bin der Welt
*Ich atmet einen Linden duft
*Um Mitternacht
Kabalevsky:
Old King Cole
I saw a ship a-sailing
If all the seas were one sea
Met orkest begeleiding:
*Kindertotenlieder-Mahler
*Das Lied von der Erde-Mahler
Ombra felice-Mozart
*Four Serious Songs-Brahms
*Alto Rhapsody-Brahms
Poème de l'Amour et de la Mer-Chausson
Schlage doch, gewünschte Stunde-Bach
Prepare thyself Zion-Bach
Erbarme dich-Bach
Spring Symphony-Britten
Who is Sylvia ?-Schubert
The Enchantress-Bliss
Sea Pictures-Elgar
Opera:
*Che Faro-Gluck
Adieu forêts-Tschaikowsky
Purcell:
Mad Bess-atr. Britten
There's not a Swain-arr. Britten
Hark the ech'ing air
Evening Hymn
Fairest Isle
When I am laid in earth
I attempt from love's sickness to fly
Schumann:
*Frauenliebe und Leben
*Widmung
Volkslieder
Ich grolle nicht
Schubert:
*An die Musik
Suleika I & II
Rosamunde
*Die junge Nonne
*Grechen am Spinnrade
Heiden-Röslein
Du liebst mich nicht
*Der Musensohn
Erster Verlust
Erlkönig
Rastlose Liebe
Nur wer die Sehnsucht kennt
Wanderers Nachtlied
Who is Sylvia?
Hark, hark the Lark
Lachen und Weinen
Tod und das Mädchen
Der Jüngling an der Quelle
An die Leyer
Ganymed
Strauss:
Morgen
Wolf:
Verborgenheit
Gärtner
Auf ein altes Bild
Auf einer Wanderung
Weyla's Gesang
Oratorium:
Bach:
*Cantatas No. 11, 67
*St. Matthew Passion-Grief for Sin
*St. John Passion-All is Fulfilled
*Mass in B Minor-Qui sedes
* Agnus Dei
Christmas Oratorio
Magnificat
Elgar:
Dream of Gerontius
The Apostles
The Kingdom
Handel:
*Messiah-O Thou that Tellest. He Was Despised
*Samson~Return O God of Hosts
*Judas Maccabaeus-Father of Heaven
*Israel in Egypt
Mendelssohn:
*Elijah-O Rest in the Lord Woe Unto Them
Pergolesi:
*Stabat Mater
Kerstliedjes:
*Silent Night, Holy Night-arr. Fagan
*O Come All Ye Faithful-arr. Fagan
* Op plaat opgenomen.