Tom Brand
The Dutch tenor Thomas Adrianus Franciscus (Tom) Brand was born on September 28, 1917 in Wijlre, Limburg. He was discovered during his study at the 'High School for Agriculture' in Groningen. Tom rent a room with a lawyer - also a great lover of classical music - who was so delighted when he heard his inmate, singing Schubert lieder in the evening hours, that he suggested him to take singing-lessons. Tom Brand first received his singing-lessons with Jos Smeets at the 'Heerlense Muziekschool' and later from Mr. Crolla, director of the 'Maastrichtse Muziekschool', Martin Koekelkoren, conductor of the 'Mastreechter Staar' and essentially with pedagogue Suzanne Luger at the conservatory in Maastricht.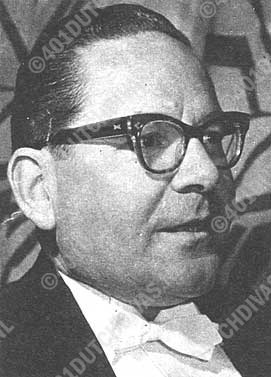 Tom Brand

His debut took place in 1953 with the 'Zuid-Nederlandse Opera' with roles as Manrico (Verdi,Trovatore) and Faust. He joined for some time the 'Opera of Stuttgart' and appeared in Mozart roles, a.o. Don Ottavio in Don Giovanni.
From 1955 he dedicated himself in his career mainly to oratorio, concert and Lieder singing and attained a high reputation in Holland with these areas , then in addition, also on international level. Guest tours in France, Italy, Belgium and Germany, brought him great successes. He was considered as an outstanding Bach interpreter and was particularly successful as Evangelist in the Passions of this great master and also in his Cantatas.
Tom Brand was widowed in the early sixties and father - as a good catholic! - to ten children. He married the, in those days very popular American mezzo-soprano Nan Merriman, and she decided to give up her career in order to be with him and take care of the children. Unfortunately, Tom Brand died of a heart stroke on October 6, 1970, short after his last appearance in Mozart's Krönungsmesse during the Music days of Eijs (Limburg). Nan stayed in the Netherlands taking responsibility for the children, but when they were grown up she moved to Los Angeles in 1973 and never returned to the Netherlands and Europe.
Bach, from Cantata BWV 85: Seht! was die Liebe tut
Recordings: Telefunken, St. Matthew Passion (BWV 244) of J.S. Bach as Evangelist, Mass of Bach and Telefunken AWT 9427-C, Jagdkantate BWV 208. With Erna Spoorenberg (sopr.), Irmgard Jocabeit (sopr.) and Jacques Villisech (bass). Monteverdi-Choir, Hamburg, conductor André Rieu.