Desiré Pauwels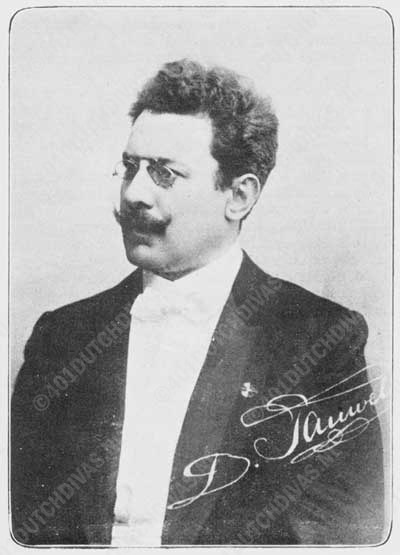 The heroic tenor Désiré Pauwels was born on 22 May 1861 in Gent. There he followed also his musical training at the conservatory in the years 1887-1889, under E. de Vos and Ch. Mirij. Also in Gent he obtained in 1881 during a singing contest with 30 rivals the first price, a gold medal. After the singing during some time as soloist with the Koninklijke Liedertafel "Les Melomanes", he joined in 1887 the Hollandsch Opera-Gezelschap (Dutch Opera-Company) of Johannes George de Groot in Amsterdam. He made his debut on 3 September 1887 as Manrico in Verdi's Il Trovatore. Jos Orelio sang count Luna, Leonora was sung by Martha van Ophemert-Schwenke and Azucena was performed by Louise Culp-Kiehl. This Hollansch Opera-Gezelschap continued in 1891 under the name of Nederlansche Opera (Dutch Opera). Up to and including the season 1893/94 under the baton of De Groot, there after under the guidance of Cornelis van der Linden.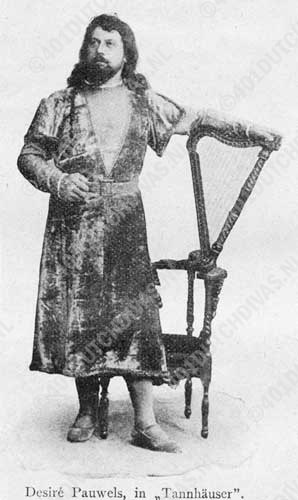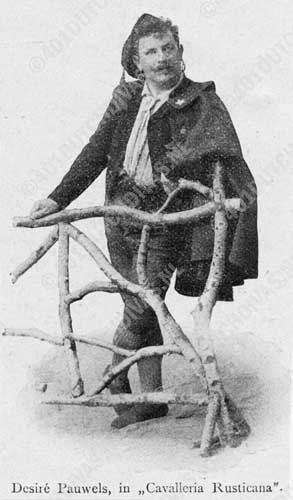 Within this company he became together with Jos Orelio, Frits van Duinen and Cato Sewing one of the most appraised and most success full singers. He sang in the Dutch premieres of Lohengrin, Tannhauser, Rienzi, Der Evangelimann by Kienzl and in Pagliacci. The Nederlandsche Opera died after the season 1902/03 due to financial and other problems. Pauwels established, together with a.o. Orelio the Vereeniging De Nieuwe Nederlandsche Opera (Society The New Dutch Opera). But also this company felled to his lot not a long live and after the season 1903/04 closed the curtain for them. There after Pauwels sang in 1904/ 1905 with the Theatre de la Haye in The Hague. He appeared also as guest in Berlin, Budapest, Geneva, Antwerp (1899-1990) and in a series of performances of the Theater Royal de la Monnaie (The Munt) in Brussels.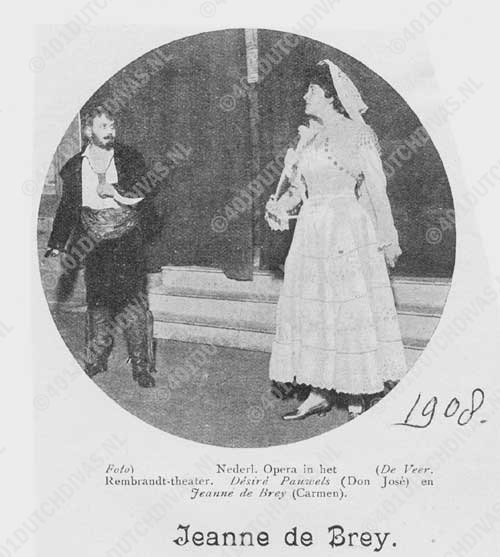 A rare happy debut, that of this young lady, in the role of Carmen. (N.V. De Ned. Opera en Operetta Rembrandt-theater). The great certainty, with which she appeared on stage for the first time and played and sang these utmost many demanding role, was perfectly amazing. A pupil, who did her singing teacher, Mr Arnold Spoer, all the honor and also the stage director Mr Louis Robert, under who's guidance she studied the stage part of the role! Mrs De Brey possesses magnificent voice material, much temperament and a great dramatic feeling. In Mr Pauwels she found an almost equal partner, his splendid action, fresh singing, made that his Don José-performance was warmly applaud.
Prins, 1908, B.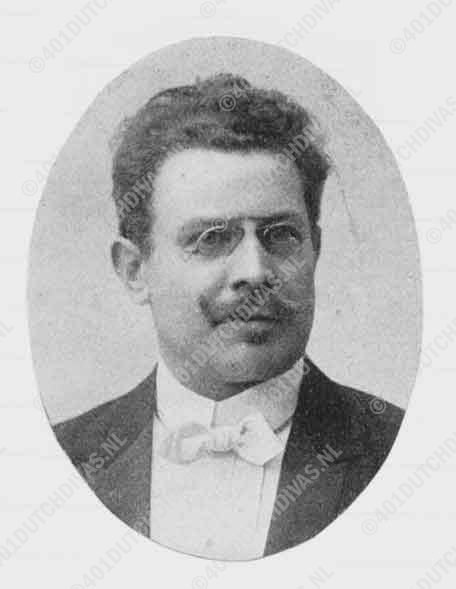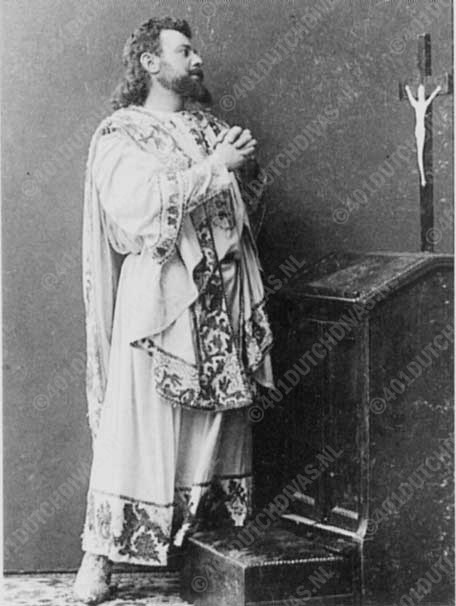 photo Koene & Büttinghausen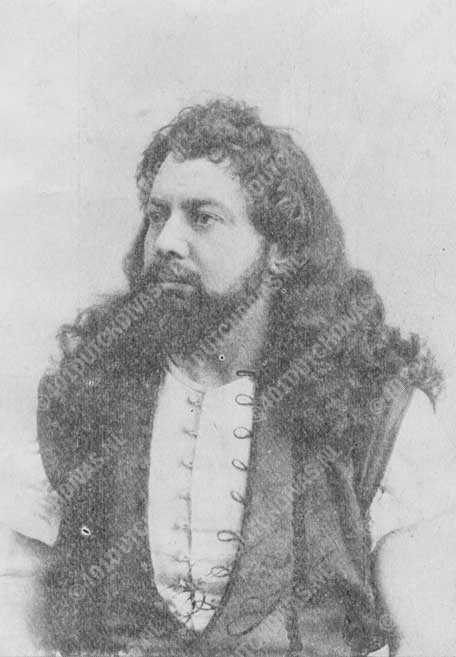 photo Ad. Zimmermans, The Hague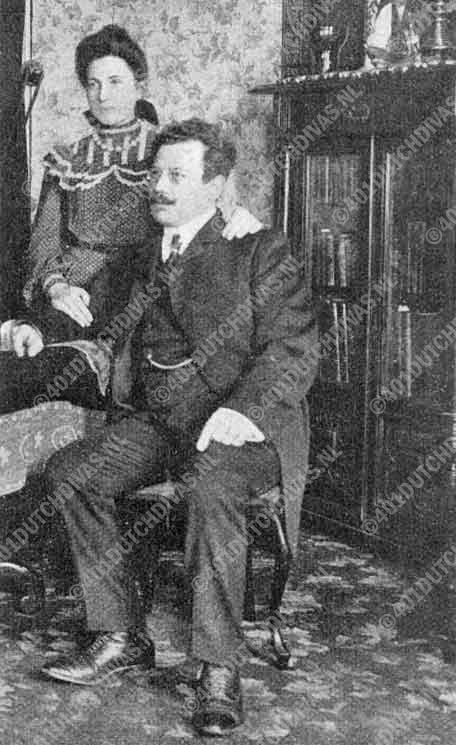 Pauwels together with his wife Sophie Pauwels-van Biene
Pauwels became director of the N.V. Nederlandsche Opera en Operette of the Rembrandt-theater in Amsterdam in 1908, where he also still sang as heroic tenor. In 1909 he engaged an other Belgian tenor Louis Morrison, who made in the Netherlands his debut on 1 October as Manrico in Verdi's Il Trovatore. Azucena was sung by the also of Belgian origin, the contralto Irma Lozin. Pauwels possesses a beautiful, well trained voice and shined mostly in the dramatic repertoire. He guided this company until the season 1918/19. After that he tried once with the Nederlandsche Opera in 1927 with a performance of Faust in the Jansschouwburg in Harlem. But this company to hadn't a long life. It was his final appearance on stage. He was after his career mainly active as a singing teacher. Pauwels received several honors, was married with the well known stage actress Mrs Sophie Pauwels-van Biene, died in 1907. He had a son, François Pauwels who became a well known lawyer and solicitor and was also a success full writer and poet.
Désiré Pauwels died on 25 January 1942 in Amsterdam. He made a few very rare recordings, a.o. a Berliner in 1902 and one for the label Lyrophone at the end of his career.
Desiré Pauwels in a short fragment, broadcast in the Netherlands in VPRO's program Urubicha: " Arioso ".
An episode broadcast on Wednesday 20 April 2005, with the final interview with Hans Kerkhoff