Magda Olivero
Magda Olivero is March 25, 2010 100 years
See the excerpt from the interview on March 20 at the bottom of this page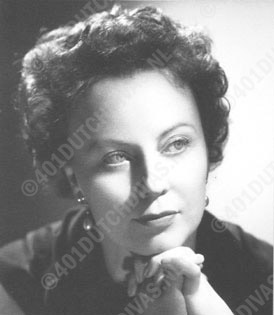 "Given a choice between Callas and Olivero, I'd actually pick Olivero. She has greater warmth and depth and is more moving.
-Stefan Zucker, Opera Fanatic magazine
"....Bestaat er een Olivero-effect? Ik ga het wel geloven. In ieder geval blijft Magda Olivero een van de grootste opera-wonderen van de afgelopen eeuw. Na haar debuut in 1933 trok zij zich in 1941 terug van het toneel om 19 jaar later terug te keren op verzoek van de componist Cilea, die in haar de ideale Adriana Lecouvreur zag.
-Paul Korenhof, Luister januari 1992.
Deze opera, en wel met de aria "Del sultano Amuratte" was mijn eerste kennismaking met Magda Olivero. Een kennismaking met een stem die een onuitwisbare indruk op mij maakte. Een uiterst expressieve stem. Olivero is een wonder, een ander woord ken ik er niet voor. Zoals zij met die eigenlijk helemaal niet zo mooie stem een rol weet neer te zetten is ongelooflijk, daar is zij werkelijk uniek in.
Magda Olivero (born in Saluzzo, 25 March 1910), has had a very unique career. She made her debut for the Turin radio in 1932 with Nino Cattozzo's 'I Misteri Dolorosi'. In 1933 she sang Lauretta in Gianni Schicchi at the Teatro Vittorio Emanuele in the same city. Up until 1940, she sang in all the major Italian theatres and was often heard on the Italian national radio EIAR (now RAI). In 1940, after a final performance of Adriana at the Teatro Alighieri in Ravenna, she married and retired from the stage, only to return 10 years later again to sing Adriana Lecouvreur at the request of the composer, Francesco Cilea.
Her career took off again as if without interruption, and she performed in theatres throughout the world, including the Metropolitan, where she sang a memorable Tosca in 1975. Her last appearance on the stage was in 1981, at the Teatro Filarmonico of Verona, singing 'La voix humaine' by Poulene.
Magda Olivero was a specialist of verismo, and was an unsurpassable interpreter of Fedora, La Fanciulia del West, Mefistofele, La Bohème, Madame Butterfly, Manon Lescaut, Tosca, and many others. She was, however, also an celebrated Violetta in Verdi's La Traviata.
In the words of Rodolfo Celletti: "In the early part of her career, she had an enormous range and a technic which was perhaps unique among Italian sopranos of that time. An absolute mastery of breath and impeccable phonation allowed for a perfect legato as well as smorzature, diminuendos and crescendos at all pitches. These rich dynamics were at the service of an interpreter of great sensibility and imagination in terms of accentuation and phrasing and who was, moreover, an attractive and gifted actress. To this was added a thorough musical training. Olivero's way of singing and interpreting was definitely countercurrent for the time"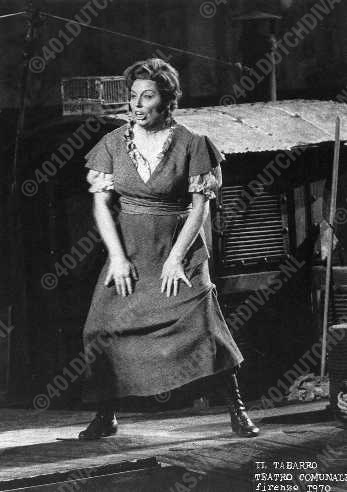 Magda Olivero in Puccini's 'Il Tabarro' 1970
Magda Olivero sang Adriana Lecouvreur for the first time with Beniamino Gigli in 1938 and, in one of her last appearances in this role, with Placido Domingo in the United States. Her last recording of Adriana was a curious recording for the Italian label Bongiovanni in April 1993, at the age of 83! This Adriana, first conceived almost as a joke, is called by Magda Olivero as her musical last will and testament.
Anno 2010 Magda Olivero is "still going strong". The best evidence of this "still unique voice" you can see and hear in the YouTube clip from 2009 at the bottom of this page.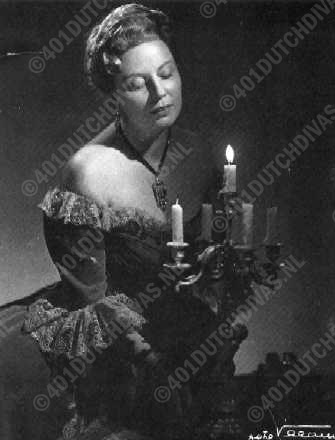 Magda Olivero als Adriana
Magda Olivero as Adriana
Discography:
Magda Olivero in Recital, Dallas 1977, Legato Classics, Standing Room Only, SRO-815-1
Magda Olivero, The famous Amsterdam Concerts, Bella Voce, BLV 107.207 (2 discs)
Magda Olivero 1993, Selezione da Adriana Lecouvreur, Bongiovanni, GB 2515-2
Magda Olivero, recital, opera arias ans scenes, Verona 28016/17 (2 discs)
Magda Olivero, Celebrated Death Scenes, complete acts from Adriana Lecouvreur, Mefistofele and La Wally. VAI audio, VAI 1062-2 (2 discs)
Manon Lescaut, complete opera recording Amsterdam 31 October 1964, Eklipse, EKR P-6 (2 discs)
Cilea, Adriana Lecouvreur, "Del sultano Amuratte"
Boito, Mefistofelo, from one of the famous Amsterdam concerto's, in a radio broadcast by Hans Kerkhof , mid-sixties
1983 interview with Magda Olivero on Tosca and on her career (Magda answers Italian, questions in English):
Maga Olivero sings on April 17, 2009 - At her's 99th (!) - an aria from Francesco di Rimini by Riccardo Zandonai
Magda Olivero - Vissi d'arte (Tosca, Puccini)
Magda Olivero at age 100 in Loggione with video fragments of La Traviata, Manon Lescaut and Tosca:
Magda Olivero sings "Panis Angelicus" by Cesar Franck