HIGH C
The e-mails about halfway this page and reactions on the biography I wrote about Cristina Deutekom, where among others a motive for me to lose myself in octaves, notes, high C's, and others. For example the famous high C seems me to be a little bit indefinite conception. It is used for tenors as well as for sopranos and there are yet evident differences between these human creatures. Correct was c2 or 'two striped c' for tenors and c3 or 'three striped c' for sopranos.
Two examples of such high C's:
'Di quella pira,' The Dutch tenor Hans Kaart in Il trovatore by Verdi, a recording from 1956
Hans Kaart sings the high C - C2 - after about 56 seconds from the beginning of the aria.
'Ma dall'arido stelo divulsa,' The Dutch soprano Gré Brouwenstijn in Un ballo in maschera by Verdi, a live recording from 1958
Gré Brouwenstijn sings the high C - C3 - after about 1 minute/17 seconds from the beginning of the aria.
The octave range reaches for the human voice from C to B, from c to b, from c1 to b1, from c2 to b2 and practical spoken it finished with c3 to b3. However, some vocalists exceed this range, until the compass of c4 to b4, but I believe no classical music composer has ever written something substantial for it. The coloraturas of the Queen of the Night for example are written in f3. Singers who produce notes above this range do this in connection with grace notes, free coloraturas, and so on. The highest note written is - as far as I know - a g3. Mozart wrote it for the concert-aria 'Popoli di Tessaglia,' KV316. And one of the lowest (not the lowest), again by Mozart you can find in Die Zauberflöte, written for Sarastro, the low F.
Back to Cristina Deutekom, she sang on stage and on record series of high f3's. This fact, in combination with her remarkable low a (not A as written by error in her e-mail), sung as Amelia in Verdi's Un ballo in maschera covers over 4 octaves, in other words: her voice ranges over more than three octaves! But nearly the whole range of the human voice - about four octaves - you can find within one opera - Mozarts' Zauberflöte - from the low F of Sarastro to the f3 in the Queen of the Night arias.
The lowest note Mozart wrote however is low D for Osmin in Seraglio (Ha, wie will ich triumphieren). Monteverdi wrote also twice a low D, the first is at the death of Seneca in L'Incoronazione di Poppea. The second in the fragmentary opera Il Ritorno di Ulisse in Patria.
In the Russian Kantechion (Mass of the Dead) setting by Rachmaninov, the composer writes an optional bottom B and in Mahler's Eighth Symphony, there is a bottom B flat for the second basses, a semitone lower. It's a few minutes from the end of the second movement; at the 'Chorus Mysticus' section, "Alles Vergängliche, ist nur ein Gleichnis; das Unzulängliche, hier wird's Ereignis", the bottom basses have low B flats on the words "Hier wird's Ereignis".
More than these low notes and the high g3 - from the already mentioned KV316 - is 'normally' not possible, there's little room to manoeuvre for the human voice.
Entführung aus dem Serail, Matti Salminen with low D
Fragment from Meyerbeer's opera Les Hugenots, low C by the Italian bass Cesare Siepi:
Cherubic Hymn, opus 27/5 by Chesnokov, Vladimir Pasuikov with low Ab1, (52/53Hz, that is in the Contra-octave range, below the point with the graphic starts, the C from the Great Octave), about 56 seconds from the beginning:
But a man always find his master.
Her you can hear Viktor Wichniakov, one of the famous Russian Basso Profundo, with a low C#1 (from the Contra-octave range, C1-B1, European notation) in the second part of the sample, after about 32 seconds to be exactly:
Russian choral work
Exact measuring of this relative weak base/fundamental tone C1# (34Hz) is a little bit difficult because background noise (the choir!) and the fact that the first harmonic/uppertone C (66Hz) is much stronger. This effect is also often the case with high tones. Apart from that are the variations you hear in this sample not so much variations in height of the tones, but variations in the proportions/ratio of the fortress/loudness of the various related harmonics. You hear variations in timbre. Most speakers can't produce these low notes properly, but you can still hear these low notes due to the existence of uppertones/harmonics. Your ears let you hear those weak fundamental tones, they compensate by means of your brains.
We Praise Thee, St Petersburg Chamber Choir, (from the Russian Liturgy) Music by Pavel G. Chesnokov (1877-1944) Nikolai Korniev, conductor, video clip at You Tube with low B's at the first, and some A's and even a lower F# at one point
There are more exceptions for the human voice. For instance Erna Sack, the German coloratura-soprano. She started in 1928 - at the beginning of her career - with small contralto parts (!) and changed in 1930 to coloratura-soprano. Of her is known that she could reach c4, nickname of her: the 'German Nightingale'. Another soprano, the Italian coloratura-soprano Lucrezia Agujari (1741-1783), highly admired by Mozart, could also reach that height. Mado Robin, the French coloratura-soprano could hit b3, a visiting-card of her. Even a c4.
The often praised e-flat of Maria Callas in an Aïda performance in Mexico City, looks to turn pale in comparison to the vocal performances of the three above mentioned sopranos. These however formidable e-flat - one and a half note above c3 - was added by Callas (Verdi didn't write it), due to a conflict with tenor Baum on holding on to high notes. Baum had no answer to Callas' high e-flat. John Ardoin wrote about it in his book The Callas Legacy: 'The added note is, of course, pure circus and why not'? In the Bolero from I vespri siciliani - the studio recording of '54 as well as the live recording of '51, Callas reaches a firm E. As told to me, she has even sang several times an E, for instance in Lakmé's 'Bell song'. The fragment I use doesn't show the f3 but a firm e3. But recently I found a recording, with Callas singing a f3 in an aria from Rossini's opera Armida. This sound fragment is included in this page, together with the 'Proch Variations'.
For good understanding, the capability of singing 'high' or 'low' has of course nothing to do with the quality of the singer. For instance Kathleen Ferrier in the beginning of her career possessed only two octaves, but what a beautiful voice! Also the Dutch mezzo-soprano Julia Culp had only a "little" voice, but became one of our most successful lied-singers.
Less is written about tenors, except that high C- c2. In the opera seems to appear - as far as I know - a note higher than the 'high C' only in the famous 'Postillon-aria' of Adolphe Adam: 'Mes amis, écoutez l'histoire.' In this aria is written a d2. Apart from that sang Rubini, a singer from the 19th century even a high F (!), sung in falsetto register.
| | | |
| --- | --- | --- |
| | | |
| Nicolai Gedda | William Matteuzzi | John van Kesteren |
Holland also had a tenor - John van Kesteren - who disposes of an impressive high register. Even today - on his 80th - you can awake him in the middle of the night to sing a high C. He even sang to a high F (!) in several French operas. On the double CD of Gala - see biography John van Kesteren - are some examples of his capabilities, such as the cavatine from Rossini's opera Le comte Ory where you can hear him with 5 high C's and even a high D. Here another fragment from Donizetti's La fille du régiment with five high C's. The bass is Heinz Hermann, the recording is from September 8th, 1959.
Cavatine of Tonio from 'La fille du régiment', Amici miei, che allegro giorno, with 5 high C's
Le postillon de Lonjumeau, Nicolai Gedda with d2

Three tenors - 3x the high F!

Rossini, L'Italiana in Algeri "Languir per una bella", William Matteuzzi with a high F (f2) in full voice
A few other tenors have also sung these high F, among them the already mentioned Swedish tenor Nicolai Gedda.
I Puritani, Nicolai Gedda with a high F (f2)
Bellini, I Puritani, Finally Luciano Pavarotti, the same fragment, also with a high F (f2)
But that's not the end! You can first hear now an opera fragment, sung by the American tenor Gregory Kunde
"Gb5 (Gb2)", Gregory Kunde a semi tone higher than in the former three fragments
And secondly a song by a castrato, Javier Medina
| | | |
| --- | --- | --- |
| | | |
| Farinelli | Javier Medina | Javier Medina op toneel in een rol als castraat |
'Ombra fedele anch'io,' by Riccardo Broschi, composed for his brother Farinelli (artist name of the famous Italian castrato Carlo Broschi, Napels, 24 January 1705 – Bologna, 15 July 1782) and sang with head-voice by Mexican male-soprano (an endocrinological castrato) Javier Medina *) , with an high A5(A2) and B5(B2) in the beginning and to the end again an A5(B2)
*) So-called 'natural' or 'endocrinological castrati' are born with hormonal anomalies such as Kallmann's syndrome, or have undergone unusual physical or medical events during their early lives that reproduce the vocal effects of castration without the surgeon's knife. Javier Medina and Jorge Cano are examples of this type of high male voice.
The sopranos:
| | | |
| --- | --- | --- |
| Erna Sack (1898-1972) | Mado Robin (1918-1960) | Yma Sumac (1927-2008) |
Fragment from 'Carnaval de Venice' with that famous high B (b3) sung by Mado Robin and kindly put at disposal by John Davison, thanks John!
Carnaval de Venice, by Mado Robin, with the b3
Lucia di Lammermoor, 'Mad scene,' Mado Robin, again with a b3, shortly changing into a c4
'Frühlingsstimmen Walzer,' by Erna Sack, with a c4 (not the first long note, that's a g3#, but one of the following shorter notes) in the first part of the song, thanks to 'Callista LaDiva' for disposal
'Popoli di Tessaglia,' KV316, by Natalie Dessay, EMI 1995, with twice a g3
and finally for the sopranos, Maria Callas in three fragments:
'Proch variations': 'deh torna mio bene' by Heinrich Proch, a live recording with unfortunately poor sound quality but Callas in superb voice: a.o. a D3, E3, C#3 (c3-sharp) and again an E3
Bell song , the 1952 live recording - e3# (e3-sharp)
Armida , the aria: 'per me propizio il fato' by Rossini, 1952 live recording with at approximately 1.17 a F3
The contraltos:
Of the low female voices - the contraltos - is the next fragment a nice example. You can listen to Marian Anderson in a recording from 1936 of Schubert's 'Der Tod und das Mädchen.' Marian Anderson sings as last line ' ... sollst sanft in meinen Armen schlafen ...' During schlafen she sings a G# (103hz) (Great octave).
Schubert, 'Der Tod und das Mädchen,' Marian Anderson with a G#
Remains a few other phenomenons to be named, among them the by Leo Riemens (a Dutch critic and famous opera-collector) abused Peruvian voice-miracle Yma Sumac. Of her is said that her voice has a range of 5 octaves, a range that reaches from B1 (the B below low C) to c4, exact 5 octaves. With this range she reaches also just below the bass-range in the lower-region and just above Mado Robin with her b3 in the top region.
Chuncho - the forest creatures, Yma Sumac from E2 (Great octave) up to and including c#4, almost 5 octaves
Now we come to a part, where lovers of classical music will probably drop out. A renowned singing teacher wrote me - after listening to the following music fragment: '... Dreadful. Didn't know that this chirping represent a G4! ...'
| | | |
| --- | --- | --- |
| Mariah Carey | Adam Lopez | Georgia Brown |
Pop-diva Mariah Carey hits during two different live renditions of the song "Emotions" a G7-note, the highest note in the history of recorded music. This happens at a concert of The MTV Video Music Awards 1991. You can hear a G7#-note in the third series of short 'hits', approximately around 13 seconds from the beginning. She came in the Guinness Book of Records with these recordings.
Emotions - G7#, Mariah Carey
Mariah Carey jumps than from E7 to G7#. The next jump (2e) - halve a second later - is relative weak, but so around the 14th second, she hits in the 3th jump from E7 to F7#. The fourth and last attempt, about halve a second later is again substantial weaker en hardly measurable.
This G7#-note (European notation G4#) is according to the US Standard notation. They start with Sub-Contra octave (C2-B2, European notation) with the figure 0, Contra-octave (C1-B1, European notation) with the figure 1, than the Great octave (C-B, European notation): 2 (that is the first octave in the graphics), than the Small octave (c-b, European notation): 3 and what we in a part of Europe call 1 (c1-b1), is in de '' US Standard" notation 4. The famous high F in the Queen of the night aria is a F6 (European, F3). The tiresomeness is that, within Europe, the French have some other notation.
Some time ago I received the following e-mail:
'Hi, i'm Georgia Brown a singer to Brazil. I'm in Guinness Book 2005 for make a g2 to g10, maybe u interest for your site.
link https://escravosdegeo.sites.uol.com.br/index1.htm (the site is exclusive in Portuguese, J.L.), here u can see a vocal range and any songs.
kisses
Georgia'
High vocal range - F8, Georgia Brown, not with a g10, but at the end - at about 56 sec.- with a f8 (European notation f5), two octaves higher then the f6(f3) from Die Zauberflöte)
I have my doubts about Georgia's G10. A G10 is 25.104 HZ, and that's far beyond what men can hear. Only babies and bats can hear them. But the f8 - 5588 hz - is impressing enough.
'From A#7 to B7", pop singer - male soprano - Adam Lopez sings even higher than Mariah Carey. He gets these supersonic high notes: from A#7 to B7 - 1 1/2 note above Mariah's high G7# - around 6 seconds from the beginning
For the sake of completeness: from +/- 1 1/2 sec. to 3 sec. Adam Lopez goes from C7 to D#7. From 3 sec. to 5,5 sec. from D7, via E7 to F#7. From 5,5 sec. to 5,8 sec. he reaches even higher: from G7 to G#7. About around 6 sec. an A7 changing into A#7 and as culminating point he goes from A#7 to B7. Unbelievable.
Listen to the complete interview with Adam Lopez as broadcasted at ABC Brisbane in 2005
Meanwhile Ben Dan Hawks (a lower baritone from the U.S.) wrote me: "After exchanging some e-mails about the subject, Lopez himself explained that his top note was actually much higher (currently B8)!" Ben has send me the following example of his attempts to find the limits of the human voice. In this sample you hear three sections: the first goes from D#8 to E8, the second from E8 to F8 and finally the third from A#8 to A8. That is almost one octave higher than the sample of Adam Lopez with his B7.
"From D#8 to A8", lower baritone Ben Hawks

The both e-mails, with which it all started:
top
hi. I'm intrigued by the assertion that Cristina Deutekom has a range of more than four octaves. Since the highest recorded notes are by a French soprano of the early 20th century who could hit a top B in alt *), for Cristina to have a four octave range she would have to equal that and descend to B at the very bottom of the tenor range. Sorry Joop - I don't believe it!
John Davison
*) top B in alt = b3. With 'a French soprano' was meant to say Mado Robin.
Geachte Heer Lindeijer! Dank voor Uw brief! Ik kon de 4 - gestreepte f *) zingen op de Bühne, Königin der Nacht en ook de Schauspieldirektor *), eveneens van Mozart. In Un ballo in Maschera, (Amelia), gaat het naar laag A *)
Met vriendelijke groeten,
Cristina Deutekom
*) Cristina made a mistake here, it's a f3
*) Frau Silberklang
*) and here she mentioned an a (220HZ), not A (110Hz)
Translation/ shortened: Cristina Deutekom wrote to me, that she sang 'on stage' in the aria of the 'Queen of the Night' a serie of f4 *) , also in Mozart's opera 'Die Schauspieldirektor' (as Frau Silberklang) and in Verdi's 'Un ballo in Maschera' (Amelia) she reached to low A.*)
*) Cristina made a mistake here, she never sang higher than f3
*) and here she mentioned an a (220HZ), not A (110Hz)
| | | | |
| --- | --- | --- | --- |
| Lage a van Cristina Deutekom | | F3 van Cristina Deutekom | B3 van Mado Robin |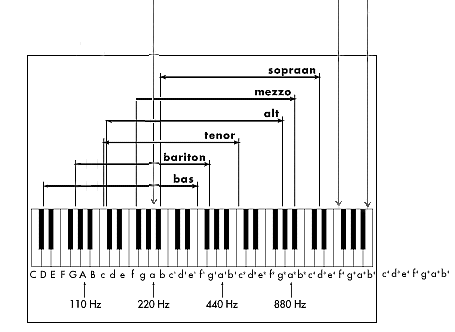 Raised and lowered notes, with # (sharp)- or b (flat)-notation
To complete the story about notes and octaves, there are also notes with halve a distance from the others - the black keys on a piano. That E-sharp (E3#) of Maria Callas is half a distance above the note e3. Starting from the high C (c3) for sopranos you get than c, d, e, e-sharp.
The list of raised notes: c-sharp, d-sharp, and so on. Written in staff-notation with the sharp-sign (#).
The other list, the lowered range - c-flat, d-flat, and so on. These notes are written with the flat-sign (b)
---
Extended classification of voices:
Coloratura-soprano: highest female voice, has to reach the f3 (Queen of the night in Die Zauberflöte). Examples: Erna Sack, Mado Robin, Ellen Beach Yaw and Miliza Korjus.
Coloratura-soubrette or Soprano lirico leggiero: reaches about d3, most of time youthful roles. Examples: Louise de Vries, Adèle Kern, Elisabeth Schumann, Erna Berger at the start of her career.
Soprano leggiero. Also named as coloratura-singer, but for her e3 is sufficient. Examples: Galli-Gurci, Dal Monte, Lily Pons, Erna Spoorenberg, Cato Engelen-Sewing, Erna Berger.
Lyric soprano: to c3, the most versatile soprano (Mimi in La Bohème). Examples: Victoria de los Angeles, Grace Moore, Greet Koeman, Irmgard Seefried.
Soprano lirico spinto (jugendlich-dramatisch): this is change-over between lyric and dramatic soprano. Fine full voice to c3. Examples: Gré Brouwenstijn, Renata Tebaldi, Elisabeth Rethberg.
Dramatic soprano: to c3 or d3. Is in the Italian repertoire (Turandot and Aida in same named operas) often a little bit more dark-coloured than in the high-romantic German repertoire (Isolde in Tristan und Isolde). Examples:Maria Callas, Rosa Ponselle, Elisabeth Ohms, Flagstad.
The highest mezzo-sopranos are named to female-singers: Dugazon and Galli-Marié. To b2. Example: Cora Canne Meijer.
Dramatic mezzo-soprano: a light contralto-voice to a2 (Amneris in Aida), in some cases also capable to perform dramatic-soprano roles. Examples: Ebe Stignani, Giulietta Simionato.
Lyric-colorata alto: to about b2-flat and special alto-roles of Rossini. Most of times sang by mezzo-sopranos.
Contralto. Sings roles as Azucena (Trovatore), Ulrica (Un ballo), Dalila. Example: Maartje Offers.
Dramatic alto: more dark coloured as a mezzo, to a2-flat (Dalila in Samson et Dalila). Example: Annie Delorie.
Contralto: very dark, very seldom in opera. Examples: Clara Butt, Kathleen Ferrier.
Countertenor: special male-voice singing at contralto-height by using the falsetto-register. (todays also used for roles originally written for 18th century castratos, but with a quite different timbre). Examples: Alfred Deller, Sytze Buwalda.
Lyric tenor: male alternative of the lyric soprano. Reaches to about c2 just as the 'tenore leggiero' and the 'tenore di grazia' (Ottavio in Don Giovanni). Examples: Gigli, Richard Tauber, Anton de Ridder.
Tenore lirico-spinto: change-over to the dramatic tenor, to c2. (Lohengrin in same named opera). Examples: Del Monaco, Caruso.
Tenore drammatico or hero-tenor: in Italian operas famous because his 'high C' (c2. In the German repertoire a little bit more dark coloured of sound, reaching to the baritone (Otello in same named opera). Examples: Jacques Urlus, Hans Kaart, Lauri-Volpi, Tamagno.
Tenore buffo: flexible clear voice, to about a1, means for acting roles ( Jaquino in Fidelio).Example: Chris Taverne.
Baryton-Martin: highest baritone-voice, named after a French singer, only in the French repertoire. Faust in same named opera and French operetta-heroes.
Lyric baritone: to about a1-flat (Figaro in Il barbiere di Siviglia). Examples: Tito Gobbi, Schlusnus.
Bass-baritone or character-baritone: more serious and to g1 (Figaro in Le Nozze). Example:Siemen Jongsma.
Heroes-baritone: dark, wide ranged voice to g1 (Boris in Boris Godoenov). Examples:Casper Broecheler, Jos Orelio.
Baritono brillante or 'Spielbariton': baritone with 'buffo' character (Gianni Schicchi in same named opera). Example: Jos Burcksen.
Bas buffo: Also 'play-bass', with a reach to f1 (Mefisto in Faust). Example: Guus Hoekman.
Basso serioso or basso profundo: reaches to about e1 and to the lower range capable to the low E (Sarastro in Die Zauberflöte).Examples: Arnold van Mill, Boris Christoff, Feodor Chaliapine.
Sources:
NRC Webpagina's 20 JANUARI 2000
Elseviers groot operaboek, Leo Riemens
Eenvoudige muziekleer, Hennie Schouten