Cristina Deutekom, awards & discography
AWARDS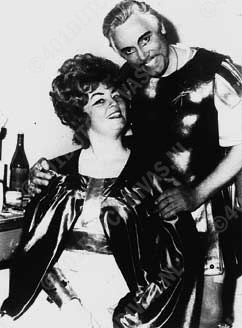 Knight in the order of Oranje Nassau 1974
Singer of the year. Milan 1974
Singer of the year. Milan 1973
Premio Romeo e Juliët. Verona 1972
Rigoletto d' Oro Mantova 1973
Monteverdi d'oro Venezia 1972
Palco icenico d'oro Mantova 1971
Grand Prix du disque - Charles Crois. Paris 1968
Arena d'oro. Verona 1976
DISCOGRAPHY
BEETHOVEN Christus Am Ölberge Das Orchester der Beethovenhalle Bonn
Volker Wangenheim - EMI 1C063 29029
MOZART Die Zauberflöte - Decca SET 479 81
Vienna Philharmonic Orchestra Georg Solti
MOZART Die Zauberflöte - Decca SET 527 (Highlights)
Vienna Philharmonic Orchestra Georg Solti
VERDI Attila - Philips 6700 056
Royal Philharmonic Orchestra Lamberto Gardelli
VERDI I Lombardi Alla Prima Crociata - Philips 6703 032
Royal Philharmonic Orchestra - Lamberto Gardelli
VERDI Un Ballo in maschera - EMI 5C055 89009
(Highlights)Scottish National Orchestra - Alexander Gibson
*Cristina Deutekom zingt Mozart Aria's - EMI 5C051 24037
Mozart Symfonie Orkest/Charles Vanderzand
* Grand prix international du disque
Cristina Deutekom sings Bellini, Rossini and Verdi - Philips 6500 096
Orchester der Oper 'Monte Carlo/Carlo Franci
Christina Deutekom sings Verdi, Bellini and Donizetti - Philips 6505 012
Orchestra Sinfonica di Roma della RAI - Radiotelevisione Italiana/Carlo Franci
Die Stimme der Primadonna - Cristina Deutekom Bellini, Rossini & Verdi
Orchestra Sinfonica di Roma della RAI - Radiotelevisione Italiana / Carlo Franci
Orchester der Oper Monte Carlo /Carlo Franci
Philips 6747 012
Een Avond Belcanto met Cristina Deutekom
Orchestra Sinfonica di Roma della RAI - Radiotelevisione Italiana / Carlo Franci
Orkest van de Opera van Monte Carlo /Carlo Franci
Philips 6780 752
Cristina Deutekom and Jan Derksen
Duets from Lucia di Lammermoor, Rigoletto, Il Trovatore, Macbeth and I Due Foscari
Orchestra of the Netherlands Radio / Renato Sabbioni
EMI 5C05524 966
Promenade Concert met Cristina Deutekom Philips 6599 206
Berlijns Amusementsorkest/Jürgen Hermann
Ich Schenk' Mein Herz EMI 5C063 24032
Cristina Deutekom zingt Operetteliederen
Orkest / Charles Vanderzand
Wiener Sphärenklänge" Cristina Deutekom zeller ziehrer Josef Strauss/ Johann Strauss
Wiener Volksopernorchester / Franz Allers Philips 6500 228
List of currently available recordings on cd:
Portrait of Cristina Deutekom: Weense Operette Aria's. Philips 462 075 2.
CRISTINA DEUTEKOM SINGS VERDI. Gala GL 334
Highlights from Attila and I Masnadieri.( Live recording)
Attila: Cristina Deutekom (Odabella), Jerome Hines (Attila), Ruggero Bondini (Foresto), Cornelius Opthof(Ezio), Chorus and Orchestra of the Edmonton Opera Association under Anton Guadagno. I Masnadieri: Cristina Deutekom (Amalia), Bonaldo Gialotti (Massimiliano), Pedro Lavirgen (Carlo), Matteo Manuguerra (Francesco), Coro de la A.B.A.O., Orquesta Sinfonica de Bilbao under Michelangelo Veltri.
DONIZETTI: Lucia di Lammermoor. Gala GL 11.532(2).( Live recording)
Cristina Deutekom (Lucia), Luciano Pavarotti (Edgardo), Renato Bruson (Enrico), Oslavio di Medico (Arturo) a.o, choir and orchestra of the 'Arena di Verona' under Oliviero de Fabritiis.
Lucia di Lammermoor (final 1). Cristina Deutekom (Lucia), Alfredo Kraus (Edgardo), Chorus and Orchestra of the Dallas Civil Opera Association under Nicola Rescigno.
BELLINI: Norma. Gala GL 100.548(2) (Live recording)
Cristiana Deutekom (Norma), Robleto Merolla(Pollione), Tatiana Troyanos(Adalgisa), Clifford Grant (Oroveso), Janice Felty (Clotilde), Gary Burgess (Fiavio), Chorus and orchestra of the San Francisco Opera Association under Carlo Felice Cillario.
Verdi: Il Trovatore Gala GL 100.536(2) (live-recording)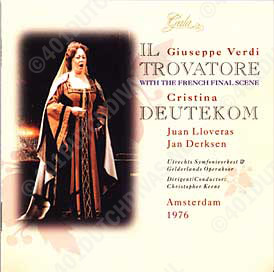 Cristina Deutekom (Leonora), Jan Derksen (Il conte di Luna), Juan Lloveras (Manrico), Carolyn James (Azucena), Ruiz (Adriaan van Limpt), Ines (Renee van Haarlem).
Utrechts Symfonieorchestrat & Gelderlands opera-choir conducted by Christopher Keene, Amsterdam, Stadsschouwburg, Oktober/November 1976
Regina ( January 5-12, 1997) Movieplay MPC 1O1.851.- her last recording! The three Donizetti queens.
Donizetti: Maria Stuarda 'Anna! Qui piu sommessi favellate' - Anna Bolena 'Chi puo vederla' - Roberto Devereux 'E Sara in questi orribili momenti'.
Cristina Deutekom, Ljoedmila Hadzjieva (soprano), Petia Petrova (alto), Amand Hekkers (tenor), Niko Issakov (baritone), Svetozar Rangelov (bass), Bulgarian National Philharmonic Choir 'Svetoslav Obretenov', Symphony-orchestra Sofia conducted by Ivan Mantinov.
The Art of Cristina Deutekom. Gala GL 100.584 2cd. Live recordings from: Alcina (Händel), La Clemenza di Tito (Mozart), Medea ( Cherubini), Turandot ( Puccini).
Vocalists: Cristina Deutekom, Pamela Myers (soprano), Beverly Wolff, Lucia Valentini-Terrani, Ute TrekelBurkhardt, Ruthild Engert, Martha Szirmay (alto), John Stewart, Giuseppe Giacomini, Cario Bini, Joaquin Romaguera (tenor), Paul Plishka, Erich Knodt (bass), various orchestras, choirs and conductors.