Willem Mengelberg Books
Willem Mengelberg [1871-1951], Dirigent / Conductor, Fritz Zwart, editor (The Hague: Haags Gemeentemuseum, 1995) Catalog of a Mengelberg exhibition at the Hague Municipal Museum, where the Mengelberg Archives are kept. The book includes bilingual articles on Mengelberg and Mahler and on the conductor's style. (in Dutch and English) ISBN 90-6730-101-9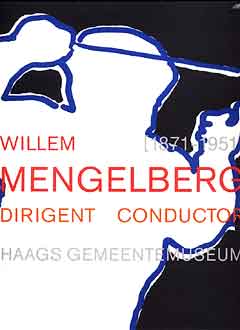 This highly recommended book - to big for my A4-scanner - is still available. It's written in English as well in Dutch and as far as I know the only book about Willem Mengelberg in English available at this moment. The book - 235 pages with lots of photos and illustrations, many of them in colour - accompanied the exhibition Willem Mengelberg (1871- 1951), conductor. It comprises an extensive introduction to the exhibition, a detailed descriptive catalogue of all the objects in the exhibition, a separate essay about the particular relationship between Mengelberg and Mahler, one of the two composers (the other one being Richard Strauss) who can be seen as the pillars on which his artistry rests, a musicological contribution about some aspects of the performance-practice of Mengelberg, and a large amount of illustrations.
The reason for the exhibition was the wish to organise a second Mahler Festival, the first Mahler Festival had been organised in 1920, in celebration of the silver jubilee of Willem Mengelberg as the conductor of the Concertgebouw Orchestra. The exhibition - and the book - deal with Mengelberg as a person and as a artist, and shows that in terms of music history Mengelberg has been of extreme importance both in the Netherlands and abroad, and increasingly is so again today.
For more information about books concerning Willem Mengelberg take a look at Brendan Wehrung's home page.